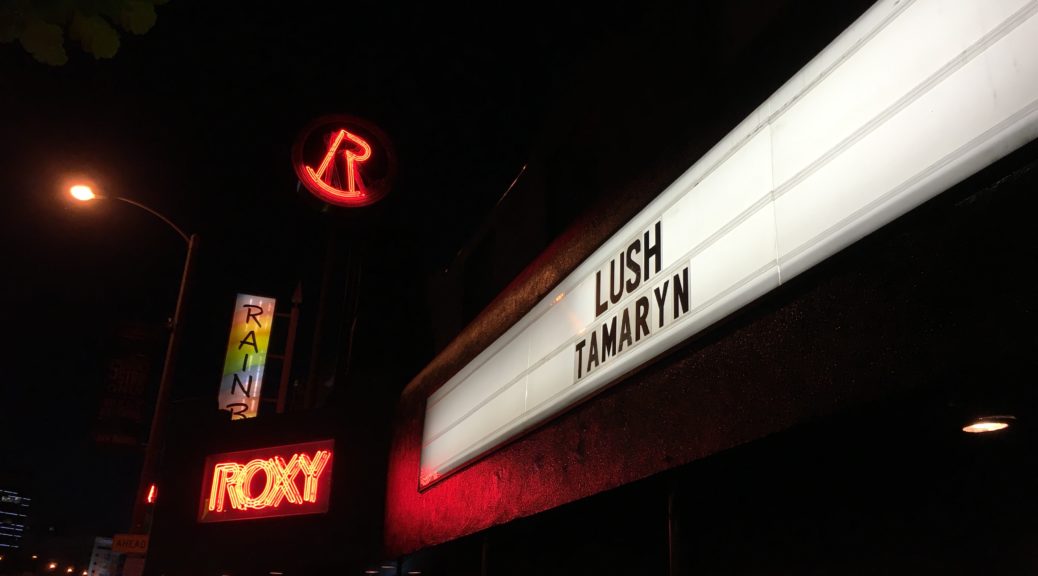 Lush: a set list infographic.
Lush: a set list infographic.
Last night I was lucky enough to see Lush perform at the Roxy on Sunset. The show was rescheduled from April 14th, due to the band having some visa issues [boo!]. Miki was gracious and unnecessarily apologized for having to delay the show to a crowd that had already forgiven the issue. It was wonderful to see and hear the band perform live, and despite being such a small venue, the band sounded massive and full.
The setlist favored Gala with Split coming in a close second with one track less at six. Personal highlights for me, aside from the obvious "De-Luxe" and "For Love," were "Lovelife," "Undertow," and "Lit Up." The new track "Out of Control" slipped so effortlessly into the set, and was absolutely stunning to hear live.
But the show stealer was definitely "Sweetness and Light," they absolutely slayed the track so much so that I wasn't even mad that they didn't play "Nothing Natural." And I would be lying if I said I didn't get a little misty when they came out for the second encore and Miki dedicated "Monochrome" to Chris.
Hopefully this little teaser will be a lead in to great things on the horizon and not just a little taste of nostalgia.
Lush
April 25th 2016
The Roxy
De-Luxe
Breeze
Kiss Chase
Hypocrite
Lovelife
Thoughtforms
Light From a Dead Star
Undertow
Lit Up
Etheriel
Scarlet
For Love
Out of Control
Ladykillers
Downer
Sweetness and Light
[Encore]
Stray
Desire Lines
Leaves Me Cold
[Encore]
Monochrome